It's been a very busy year for Ian Berry with many shows and projects. We reported how he showed at the Levis Strauss Museum in Germany that at the time seemed surreal given how many other things were canceled (it was cut short due to Covid by a few days) and then in a small window of a few weeks he managed to get what seemed like the whole Amsterdam Denim Community together for not a virtual, but a real, opening of his largest collection of works to date; Splendid Isolation. 
And the good news is, while it may be closed, for now, once reopened the show at the Museum Rijswijk by the Hague will be on until April 5th, 2021 giving many more the opportunity to see the leading artist's work in real life. We only wish we could go. 
Watching on from our many denim friends in Holland online it was fantastic to get a taste of the show. And of course, from Ian Berry's own Instagram account.
The show built on the successful 2016 exhibition Behind Closed Doors as with the pandemic Ian Berry's work took on a new life. For years Ian Berry had portrayed isolation whether in scenes of solitude in a bar or lonely scenes in a launderette but it was Behind Closed Doors, showing scenes of melancholy within the home, that took a new context this year. Of course, the term Behind Closed Doors became a part of everyday language.
Ian Berry works from his own photos and ideas and had a week booked of photoshoots in well-known people's homes . However these were all cancelled due to lockdown. He quickly started Stay Behind Closed Doors where he asked his photographer friends to take some pictures in their isolation. They ended up coming in from famous photographers and amateurs alike, including my own! Many of these were shown – lasered in denim as a backdrop with then 16 shown printed. Many more then revolving on a screen – making a fine introduction to Splendid Isolation.
With famous installations like the Record Store, Launderette and Secret Garden, it was fitting that the highlight of this show was Ian Berry remaking his living room from lockdown all in denim, including denim chesterfield, records, books and plants. It even went into his bedroom including a beautiful bedspread by Bridge and Tunnel and two pieces of a sleeping lady. Mirrored opposite in the Main Hall it was created in 2D also, but of course most of the work isn't two dimensional – if you have ever seen his work you will know it is layers and layers of denim used to create amazingly textured pieces.
In the room , famed Behind Closed Doors was next to a new piece, Con's Hall, made during lock down and really conveying many of our lives this year. When leaving the main hall you see First Sun, first made in 2012 but like many of the textile artist's work it has taken on a new life this year – with lockdown in the UK many of the parks ended up being full. The scene portraying the rush to get to the first of London's spring sun and struggling to find a blade of grass amongst the families, friends and backpackers all taking their picnics and BBQ's.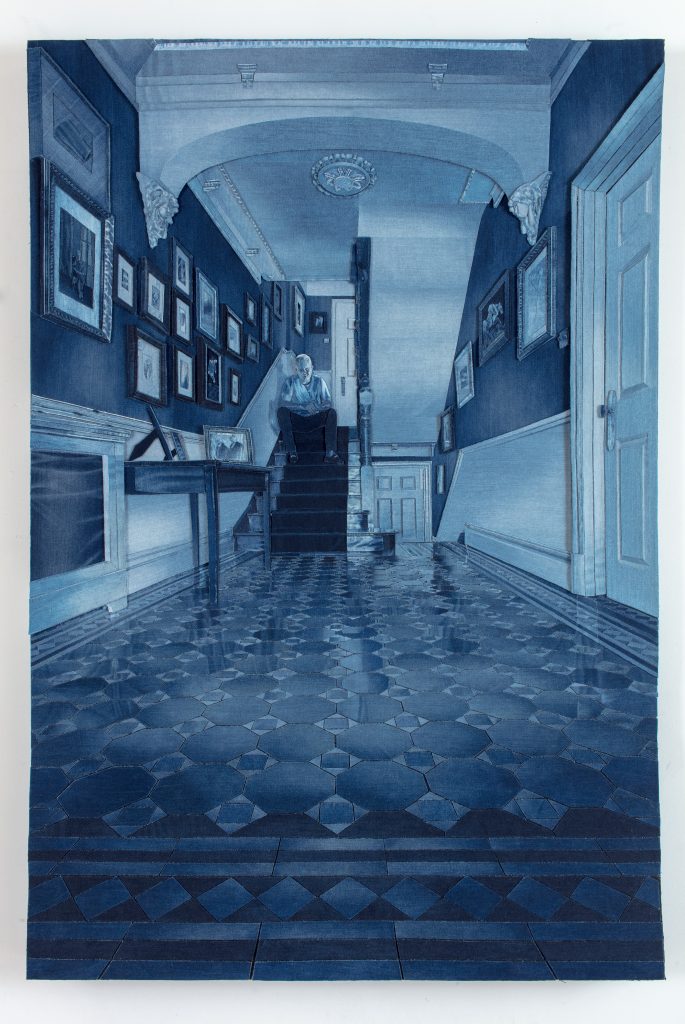 A favourite piece of many of Ian Berry's work is the Secret Garden – we first reported on it in the first Secret Garden in New York. There has been several since, but this seems to be spectacular hanging down from the roof of the Museum Rijswijk. Instagram was filled with people posing for pictures within it.
The show was sponsored by those who have supported Ian for many years. Pepe Jeans London was the headline sponsor; they have been buying at least a piece per exhibition of Ian Berry's solo exhibitions since 2013 and have also been supplying him with jeans to work with. Ian Berry made an installation of a CCTV control room for Pepe Jeans London's flagship Regent Street store in 2017.
Fellow denim names like long-term collaborators Cone Denim, Tonello, and Tencel also joined which helped bring out a special catalogue of the show with Dutch Publisher Jap Sam Books. And of course, while it is a lot about denim, Ian Berry's other main item he uses is scissors and specialist Famore backed the show too. Tonello and Cone Denim once again joined forces with him to produce a new Secret Garden and it is great to see the British Artist getting so much support from the industry. We had reported on how Tonello and Cone had helped him with his permanent Secret Garden in San Francisco.
For those saddened by not being able to see the show in the Netherlands, there's talk of another show opening in the Spring in another European City, 'let's see what Covid decides' Ian Berry says! After that the next major show will be in the Fall at Textil Museet – the National Textile Museum of Sweden. The success of Ian Berry in the art world makes many of us happy that he takes our material and turns it to art.
Ian Berry has been working with jeans for over 15 years and is the industry's highest regarded artist who pushed it as an art form. Those who managed to see the exhibition at the Museum Rijswijk saw the details and level of craftmanship that can be missed when viewing online. They were not only wowed by his technique but also the feeling the work conveyed, that draws you in. The work, the majority already sold, spanned the last ten years of his career and explored much of his journey with denim as a medium.
But it's not all about denim. It's just his paint, his way of showing the world 'and what better medium to use than the material of our time; Jeans' And of course this year he pushed out of using just denim, with projections managing to spread his work around the world with I Clap For with his son Elliott. The iclapfor campaign grew and grew with projections covering almost every Town and city in the UK and Ireland, as well as going around the globe, giving thanks and appreciation to many out there supporting us.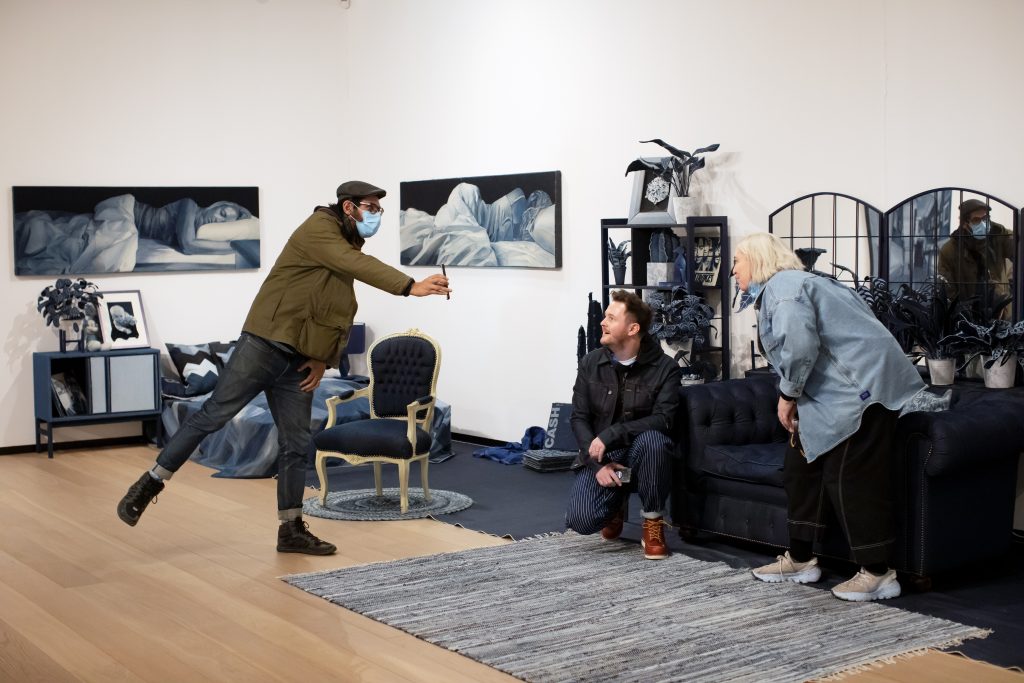 The Museum Rijswijk show covers this period of Ian Berry's year and includes a projection within his living room scene, one of the first Ian Berry did in Poplar, London, where he lives with Canary Wharf in the background. The British born artist also collaborated with fellow Brit, Jenny Beavan OBE, the famed Costume Designer with two Academy Awards to her name. Working with Blackhorse Lane they made a denim jacket pinned with all the different care workers' names in #icalpfor along with the pin badges of Pin Your Thanks – the project that Ian joined along with Ringo Starr, Kiera Knightley, and Emilie Sande. The jacket could be seen with an installation of the #Iclapfor Lenticular print. These all can be bought in the Museum Shop, along with at www.ianberry.art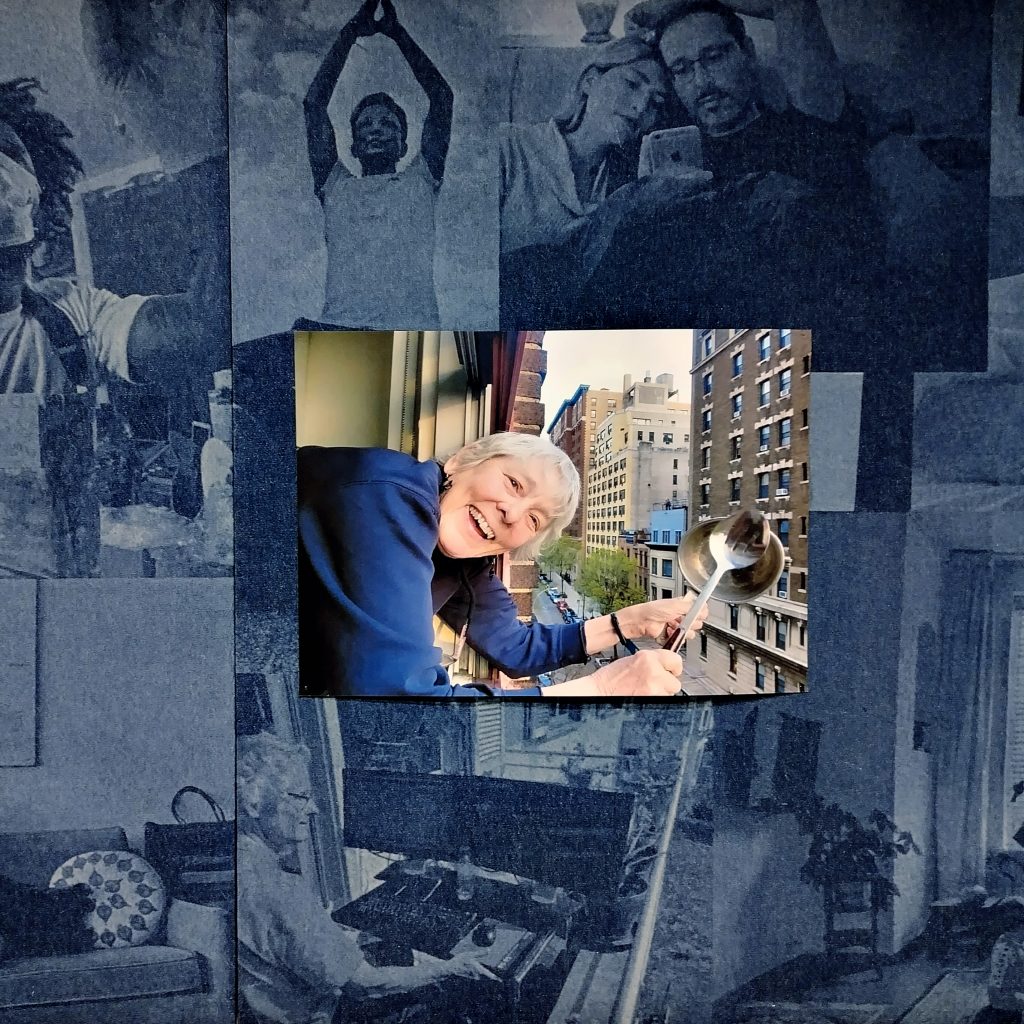 The show is due to reopen on the 19th of January and we advise all those who can, to see this show before it closes on the 5th Aril 2021 at the Museum Rijswijk. You can find tickets here. And, if you want to hear his perspective on our denim industry, check out his talk with Sandeep Agarwal at our Spotify below :
---