The December edition of the Denim By Premier Vision  was a successful fair with a good summary of different qualities and finishings. The visitors showed a lot of interest in the new denim developments .
This was a season of a perfectly imperfect jean. The following effects on denim jeans could be noticed:
hard abrasion-  ripped and torn denim!!!
dirt and stains .
oil marks .
very extreme washes!!!! + finishes
dirty and paint staining
paint and bleach spotted garments
holes
patch work
bleach spots
tye dyed (green casts)
warp cotton indigo + green fill dyed
pu coated jeans (with pigments)
permanent wrinkles + no pressing simple blowing of jeans and even without blowing..
Another noticeable product was HIGH TECH DENIM——- special treatment on denim with special products which improve and activates blood circulation!! . The only question is  the permanancy of this kind of product.
It was surprising to note that  ECO Denim  was not showing too much — perhaps due to the heavy and extreme washes.
I could also notice new finishing plants and laundries attending the show.
It seems that the revival of the jeans is now more concentrated on finishing and very comfortable stretch fabrics.
Color Denimsystems
Application of color on the denim was in various forms :
with pu coating weft color metallic yarn
coating + pu coating -pigment
overdying
Cozy Denim
Soft denims could be described as the ones with the following materials :
Tencel
T400/ Lycra
Bi-stretch-high stretch-open weaves
Some Photographs From The Show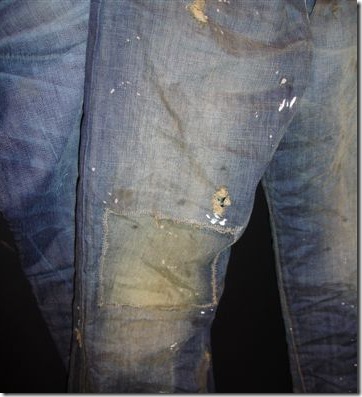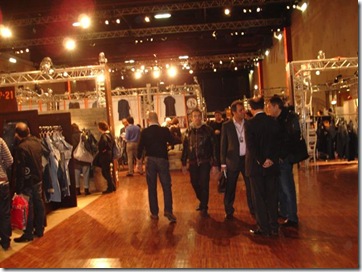 Click on thumbnails to see the larger image..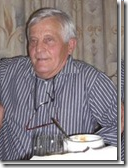 This is a guest post by Rik Vanniewenborgh who has over 30 years experience in Denim Industry. He has worked over 25 years in the VF Corporation (Belgium) in various capacities (including quality control)and has travelled over around the world living and breathing denim. This post is from his recent visit to the Denim By Premier Vision Fair Edition December 2009.Contact him on email here.
See some of his other posts here