Skinny jeans style have been ruling the roost for the women's denim  for last many years.  We keep on hearing new styles like boyfriend jeans which challenge the Skinny , but none of them beats the skinny.
The new kid on the block is the Flare Jeans. Flared jeans are not new , a lot of them have been seen in the 80s and early 90s and also in recent years. They have been in collections of many labels , but in smaller numbers.  They have been making their appearance  but never held together as a major trend in the recent years.
However, now we may be looking at some revival of this trend with a number of celebrities and stylists taking up to it.  Lindsay Lohan, Alessandra Ambrosio and Jessica Alba have also embraced flared trousers, perhaps for their ability to balance hips and make you appear slimmer.
Victoria Beckham has been seen quite often recently with flared jeans signalling her preference for this reemerging trend.
Jessica Alba has also been seen with such jeans on a number of occassions recently.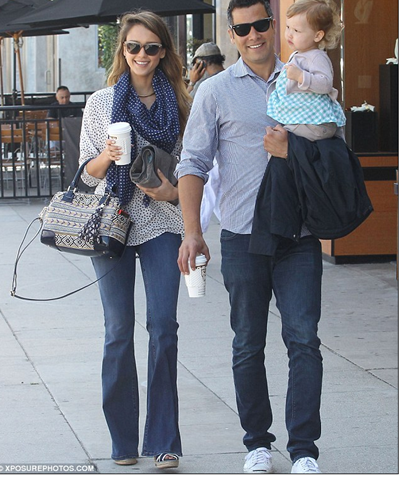 The celebrity stylist Rachael Zoe has been recently seen a number of times endorsing the flares in her dressing .
British women seem specially to be  looking for more of Flared jeans and we shall , of course, see more of them in the stores in the coming months.
via :  dailymail