What trends in women's denim can be seen on streets in Paris, London, Tokyo, Berlin and other cities around the world? Is Skinny jeans still going strong ? Is Boyfriend jeans witnessing  new variations and silhouettes ? What new looks can be seen in Jeggings ?
To find answers to many of these and similar questions, lets take a look at the Denim Street Trend Report from Stylesight.com . The report covers street looks from various cities.
Skinny Jeans still looks like one of the top trends on the streets and has added new silhouettes and finishes . Among the washes, acid wash seems to be invading all types of styles. Check the full report below. The report is in two pages, find the second page here
Denim Streets  Report From Stylesight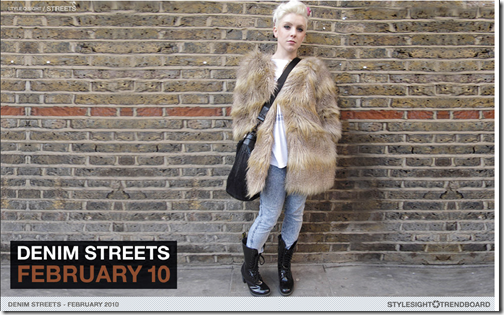 1. Skinny Bootcuts:
The skinny silhouette naturally evolves in a boot cut interpretation.
Skinny silhouettes with slightly flared hems / Ultra long versions scrunched around boot shafts / Dark denim shades / Look for this silhouette to grow in popularity as Alexander Wang showed it on his Fall 2010 runway.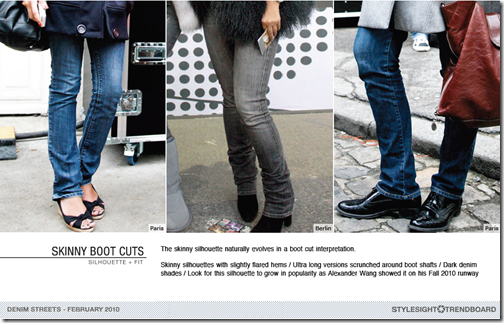 2. Skinny Jeans – New Washes & Finishes
The skinny continues to widen its range with new washes and finishes.Lightweight resin finishes pair with colorful footwear / Clean black overdyes / Tucked into knee length boots or ankle booties.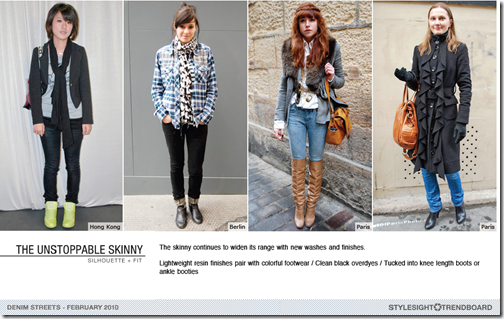 3.Boyfriend Jeans Straight Legs 
The boyfriend jeans trend reintroduces straight leg silhouettes to women and juniors.Relaxed cuts replace skinnies and jeggings in layered ensembles / Rolled cuffs / 80s retro natural waists.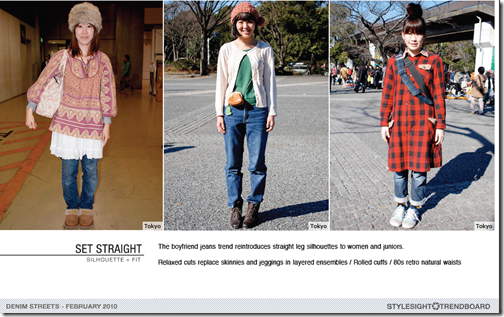 4. Turned-up Voluminous Styles
Voluminous styles, roomier than the boyfriend fit, emerge in high water cuffed styling. Fitted feminine jackets juxtapose wider cuts / Masculine trend / Key look: faded baggy jeans with tailored pieces.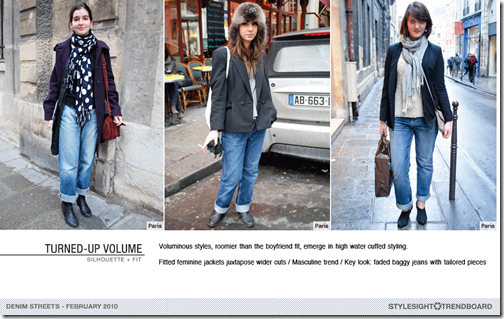 5.Tapered Legs
Tapered legs are a roomier option to skinny fits. Coated and resin finishes modernize this retro silhouette / Dark stonewash gives secondhand, from-the-90s appeal.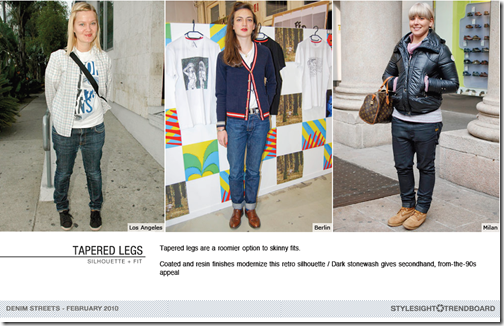 6.Jeggings – New washes and finishes. Acid wash catches up on Jeggings too
Jeggings expand with new washes and finishes that follow current denim trends. Absolute black for a minimalist edge / Black and blue acid wash / Super stretch fabric with vintage whiskers and chevron lines.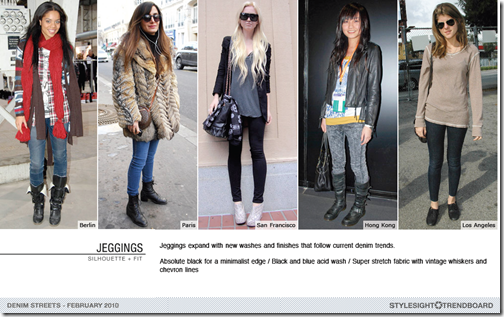 7. Natural Waistlines –Worn High.
Natural waistline silhouettes are the key retro trend.90s secondhand look with natural waistline and curved hips / Acid washed elastic waist running shorts: worn high/ Tie-dye / Straight legs with workwear boots and feminine sweaters.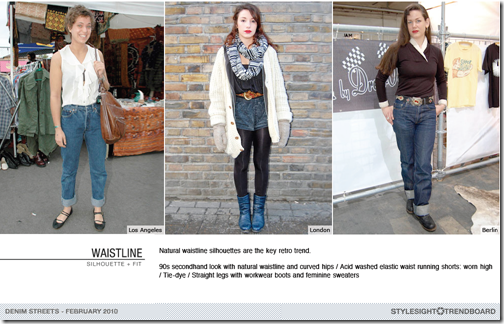 8. Chambray Shirts – Interesting combinations with Jeggings.
Styling options allow the chambray shirt to remain key.Rolled sleeves / Blue and black denim trend: A-line shirts over black shredded denim shorts / Layered, belted or unbuttoned over jeggings and leggings.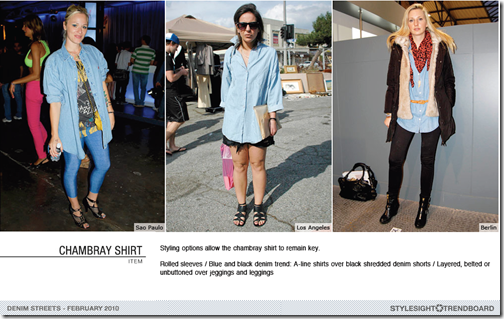 9. Denim Jackets : 80s looks with acid washes.
Acid wash and overdyed denim jackets strike a 1980s chord.
Quilted shoulder stitching, leather trim and multi pockets / Boxy, oversized unisex looks / Blue acid wash is key /Lightweight basic jacket in bright overdyes.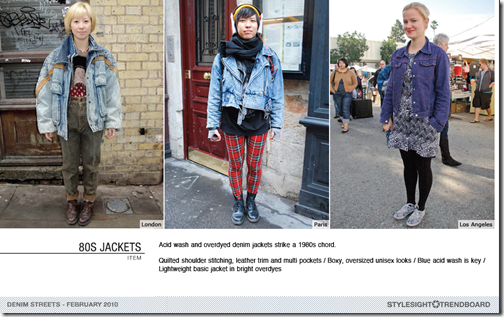 10. Short Skirts
Bubble shapes and plays on volume update the short skirt.Draped, pleated bubble skirt / Tencel/polyester shirting weights give airy shine to skirts / Cuffed hems enhance bubble shape.