11. Straight Skirts
New waist details and zippers update the mid length denim basic .Bleached tints for early spring / 80s super bleached acid wash interpretations / High waist, lightweight raw denim for a night-out.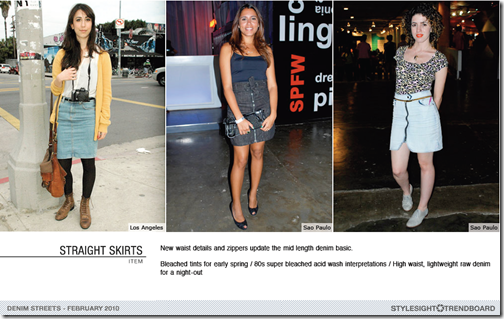 12. Ethnic Styling
Ethnic inspired items give one-of-a-kind individuality.Layered vests and scarves update outfits / Suede fringed vest matched with denim / Tribal wool blanket patterns for colorful coats.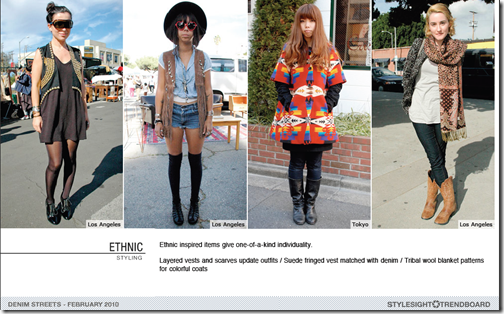 13.Workwear Denim from Tokyo streets.
Workwear eras influence denim, styling and fabric finishes.Less-is-more: one workwear piece per outfit rather than possibly gimmicky allover looks / Overalls / Twisted seams and vintage washes / Naturally aged whisker looks.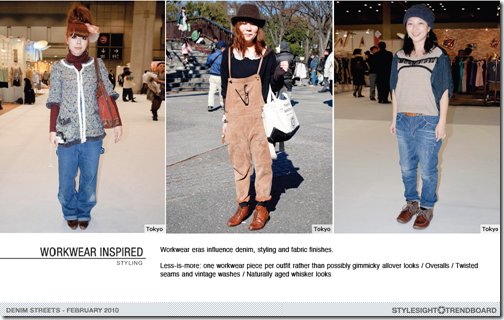 14. Raw Denim – Consistently strong trend.
Raw denim, in black and blue, makes for relaxed styling with neutral tops and outerwear.Tucked into boots or rolled up / Slim and skinny fits / Contemporary look: lightweight denim with clean,shiny surfaces.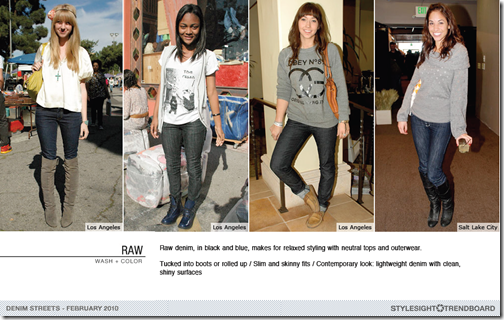 15. Bleached and  Tie-Dye
Baby blue and total whiteout bleach effects are key for women and juniors.Powder blue retro effects / Traces of indigo at seams on garment bleached items.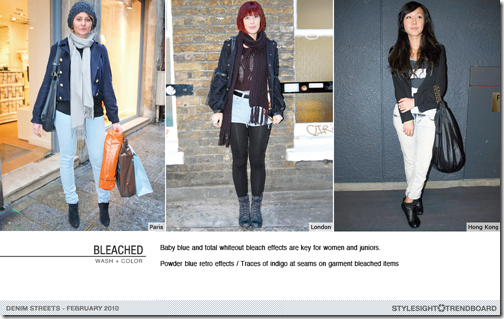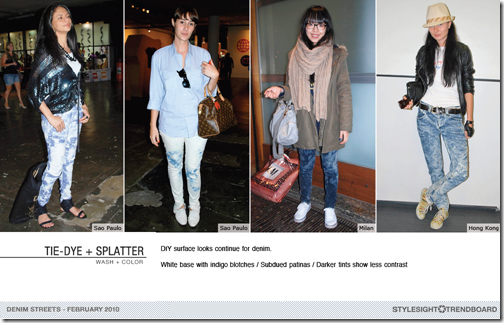 DIY surface looks continue for denim.White base with indigo blotches / Subdued patinas / Darker tints show less contrast.
16. New looks to shredded jeans with overdyes and tie-dyes
Dark overdyes and tie-dye effects give life to shredded jeans.
Forest green denim overdyed black / Black sulfur dyes or acid washes on colored jeans / Punk references in ripped, dark shaded, tie-dye jeans.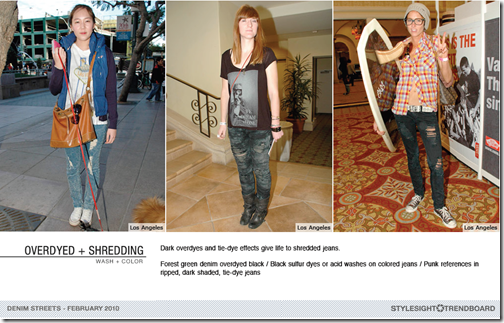 17. Two tone overdyes
Pigment dyes and earthy two-tone effects give an 80s and early 90s flashback.Pigment and sulfur dyes on bleached denim / Soft muted palette of olive, caramel and woodsy berries