When there is a evident global pressure over consumer demand , Levi's financial result has come as sigh of relief for the International Apparel Industry. The pioneers of blue jeans- LEVI's posted a growth of 15% for the year ended 2017 and 20% growth in the 4th quarter ending November,26. The company has opened 53 directly-operated stores throughout the year and has managed to achieve a 13% growth in the Asian Markets in the last quarter of the year.  The company is planning to open 100 new stores this year, mostly outside of the United States, as it concentrates on international sales and building markets in China, India and the Americas.
Analysis Of Financials
The net revenue for the Year ended on November,2017 for the Americas, Europe and Asia has been $2,774 , $1,312 and $818 millions respectively . Europe region has evolved as the leader in terms of revenue growth with 20% surge in a year. In the year 2016 , the net revenue for Europe region was $1,091 million which increased by $221 million in the year 2017 . The rest – Americas and Asia experienced a marginal growth of 3% and 5% respectively when seen annually. Europe , however, gained a very decent sales of over 20% over 2016. 
Net Revenues For Year Ended Nov. 2017 Vs Nov. 2016  ( In $ Millions)
Net Revenues – Year Ended ( In $ Millions)

Particulars

Nov-17

Nov-16

% Change

Americas

2774

2689

+3

Europe

1312

1091

+20

Asia

818

778

+5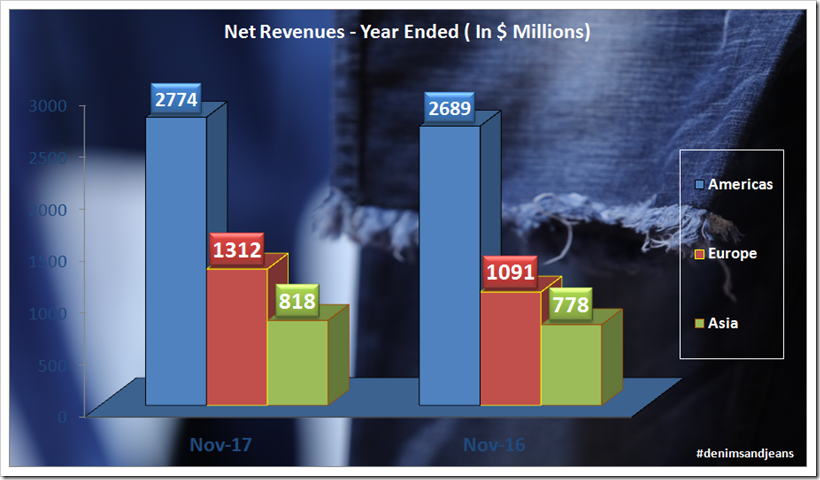 The 4th quarter was particularly good for Levis. European market  grew 28% over the same quarter  Asia posted an uptick of 13% in terms of revenue growth. The market of America isn't too responsive and there are reasons behind it. Asian and European growth is on right track and will continue to grow in coming years. In the same quarter of 2016 , Americas contributed 62% in total net revenue which has been decreased by 4% in this quarter .
Net Revenues For Year Three Months Ended Nov 2017 Vs Nov2016  ( In $ Millions)
Net Revenues – Three Months Ended ( In $ Millions)

Particulars

Nov-17

Nov-16

% Change

Americas

855

799

7

Europe

374

292

28

Asia

237

209

13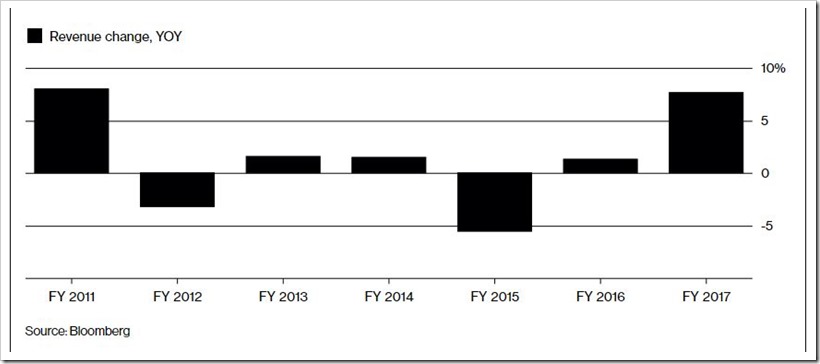 (source : Bloomberg)
Women Leading The Growth
Levi's is experiencing a straight 10th quarter growth in women denim sales. This is a very good sign specially seen in context of 'Athleisure' trend chipping off the sails of many a retailer. However, Levi's was wise enough not to board the 'Athleisure' bandwagon and focused on what they did best. Only they mae their denim products more adaptable , more flexible , more stretch for the new demands from the consumers. The growth for Levi's seems to be hinged on two main terms : 'Women' and ' Overseas' .
Chip Bergh, CEO , was expectedly ecstatic and said.
"Our growth and momentum accelerated in the fourth quarter, capping the strongest revenue year the company has had in more than a decade," chief executive and president Chip Bergh said. "Our strategies are working and the investments that we've made to diversify our business over the past few years are paying off, best demonstrated by the strength of the Levi's brand globally."